Dramatically improves the process of mixing, melting, reaction and heat exchange.
The Square Mixer uses a specially constructed plate called an element inside a pipe that efficiently disperses, dissolves, emulsifies, reacts, and exchanges heat by continuously "dividing," "reacting," and "mixing" the fluid. Since it has a simple structure and no drive unit, it is an epoch-making product that can mix while moving the inside of the Square Mixer from tank to tank and from device to device. The Square Mixer can be used for liquids, gases, slurries and other fluids and is an economical and compact device.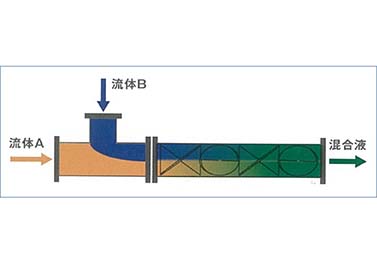 Functions and Features
・Since the fluid rotates, there is no drive unit and has a simple structure that does not require a power supply.
・It has simple structure that enables easy cleaning of the inside.
・The inside of the mixer is turbulent and mixes various fluids efficiently
・High cost performance with almost no consumable parts.
混合の原理

均質化

ガス吸収