Support Service
Per Contact

In the event of a machine failure or malfunction, we will dispatch a technician or arrange replacement parts.

Periodic Inspection

The technician will carry out regular diagnostics of the machine and the replacement of routine parts.

Comprehensive Maintenance

Replacement of parts that have deteriorated due to long-term use and diagnosis of the entire machine.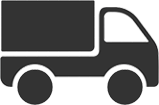 Sendback service
We also provide send-back services such as repairs, inspections, and comprehensive maintenance for equipment that can be returned to our factory.